People like Friday Praise curate social media accounts, populate them beautifully with beautiful posts and buying engagements with the intention of scamming people. Once they get the money, they ghost till they eventually block the person that sent the money.
Further look into this Instagram account, it was discovered there has been a name change at least 29 times. 29 Whooping times! That's how scammers operate. Not only that, but the thief also deletes comments and limits the comment section in order to prevent being called out on their posts so as not to discourage unsuspecting victims from patronizing them.
And most of the engagements on that account are from related profiles.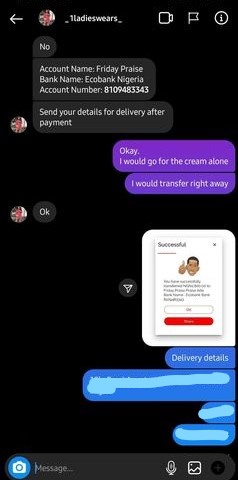 Instagram: @1ladieswears
Phone: +2349071157183
Bank account: Friday Praise – 8109483343 – Ecobank