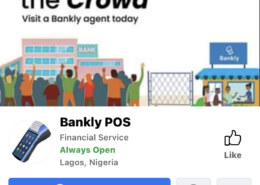 This is a warning to everyone who is about to apply for a POS machine under Bankly.
There is a page on Facebook with the name Bankly POS, i want to tell everyone not to apply for anything under that platform because they are fraudsters.
first they attach you to this number +234 9017954205 who claims to be an aggregator, they'll create an account for you on the Bankly wallet and ask you to pay for the pos machine and delivery which is 16,500 naira, into their fraudulent company account below
Account Name: Bankly Cellula
Account Nō: 8176018528
Bank Name: 9 Payment Service Bank (9PSB)
After making the payment, you'll get a message (Kindly await verification of payment) then a few minutes later (Payment verification successful) (Kindly await guildlines concerning Configuration of your terminal) (We have successfully opened a Bankly wallet account for you via which your POS terminal will be Configured)
which makes it look unsuspecting, then they'll ask you to make additional payment into an account on 9payment service bank created by them with your name which they claim is for configuration/upgrade and will reflect on your wallet, they'll tell you the account is attached to your Bankly wallet but it's all a lie.
After making all the payments, they'll block you. Bankly is a scam be careful.